Department Chair in Animal and Food Sciences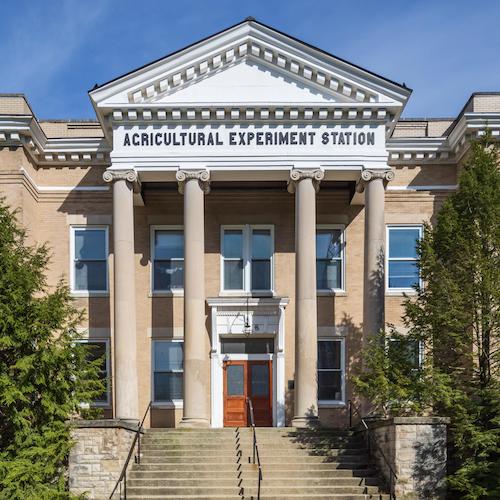 The College of Agriculture, Food and Environment, University of Kentucky, Lexington, Kentucky, seeks a dynamic and visionary department chair of the Department of Animal & Food Sciences. We seek an individual with a broad vision for sustaining animal agriculture and food systems and a track record of leadership at the national level, as well as demonstrated success in acquiring resources for programs collaborating across disciplines. As a land-grant university, we value a demonstrated commitment towards integrating research, instruction, and extension programs, as well as a keen dedication to the needs of the consumer.
 
Our people:
The Department of Animal & Food Sciences currently has 30 full-time faculty and 50 support staff. The Department currently has 300 undergraduate Animal Science students, 30 undergraduate Food Science students, and 25 graduate students. The Department also provides substantial teaching and advising support for 300-plus students in the interdepartmental undergraduate Equine Science and Management major in the College. The Department is finalizing a revitalized Food Science undergraduate program, with the goal of substantially expanding undergraduate enrollment.
 
Facilities:
The department chair oversees animal units that support research, instruction, extension, and outreach efforts, including 4-H; these include beef, dairy, swine, sheep, poultry, and equine animal units, as well as a meats laboratory and feed mill.
 
New projects:
The department chair will have a lead role on planning teams for several ongoing and planned capital projects. These include the construction of USDA-ARS research facilities (~$65.9 M), new poultry (~$6 M) and dairy (~$2 M) units, as well as the replacement of multiple facilities damaged by a December 2021 tornado at the UK Education and Research Center at Princeton, Kentucky. In addition, there is a new partnership with the Kentucky Cattlemen's Association to develop an education/training center focused on workforce education. We are also preparing a proposal for a processing center on one of the college's research farms to support Kentucky's growing food production industry. Several of these projects will be contiguous on the Little Animal Research Center in Woodford County, comprising a proposed "Beef Center of Excellence."
 
Advancing Kentucky:
Animal agriculture and food production are major drivers in Kentucky's economy, and the department chair has important responsibilities for programs and outreach to support and grow the animal agriculture and food system economy for today and the future. The Department of Animal & Food Sciences chair is expected to be a good citizen of the university and to establish productive and trusting relationships with the strong commodity groups in Kentucky.
Typical duties and responsibilities:
The Department Chair administrative duties and responsibilities are found in many parts of the university's governing and administrative regulations and include but are not limited to:
- Academic leadership, including faculty hiring and development, annual performance reviews, two- and four-year pre-tenure reviews, dossier preparation, curriculum changes and development, overall faculty mentorship, faculty/staff searches, periodic program reviews/implementation, accreditation (as appropriate), as well as institutional and the Southern Association of Colleges and Schools Commission on Colleges reporting
- Enhancement of collaborative relationships with commodity groups and other stakeholders to advance knowledge in animal and food sciences
- Leadership to support the timely dissemination of information
- Ensuring the department remains a key participant in the College of Agriculture, Food and Environment's multidisciplinary UK Ag Equine Programs and the Equine Science and Management undergraduate degree program
- Fiscal analysis and strategic financial management, fiscal and reporting accountability to a variety of funding sources and entities, and compliance with business procedures
- Infusing innovative entrepreneurial activities for each and across mission areas
- Providing for personnel management, faculty, and staff development
- Stewardship of physical facilities and information technology resources
- Development and oversight of a strategic plan to support research farms and facilities
- Compliance with university governing and administrative regulations
- Communication with internal and external stakeholders
- Citizenship on behalf of the College and University
- Taking actions for increasing diversity, equity, inclusion, and accessibility
- Leadership in grant development and funding as well as philanthropic efforts
 
Position details:
This is a tenure eligible, 12-month appointment in the Department of Animal & Food Sciences with the distribution of effort negotiable upon appointment and annually thereafter in compliance with university regulations. Employment at UK is subject to fund availability and comes with diverse rewards that focus on your total well-being and career development, with leadership striving to provide a strong work-life integration. The university generously contributes to employees' retirement plans, medical coverage, and life insurance. In addition, UK offers optional benefits such as dental and vision insurance, additional retirement plans and much more. To learn more about these benefits, please visit: www.uky.edu/HR/benefits.
Required Documents
1) Cover Letter that includes a statement of strategic vision, administrative experience, and leadership philosophy, including responsibilities previous described (up to 3 pages)
2) Curriculum Vita that includes a list of publications, grants received, and records of teaching, extension, and service (no page limit)
3) Specific Request 1 – Statement of research (up to 1 page), Statement of teaching/instruction (up to 1 page) and a Statement of extension (up to 1 page)
4) Specific Request 2 – Statement of diversity, equity, and inclusion (up to 1 page)
5) Specific Request 3 – Contact information for at least three (3) professional references who can address in their professional judgement your performance in advancing your scholarly field, significance of the venues in which you have been published, the grants you have been involved with, instructional accomplishments, and the service performed. Please also indicate your relationship to the reference.
Optional Documents
6) Scanned Academic Transcript showing the earned Ph.D. or equivalent degree. Other transcripts also optional.
Open until filled; application review to begin September 1, 2022.
Questions should be directed to:
Dr. Michael Montross
Search Committee Chair
128 C.E. Barnhart Building
University of Kentucky
Lexington, KY 40546-0276
Phone: 859-218-4319
Email: michael.montross@uky.edu
The University of Kentucky considers the health, safety and well-being of our entire community to be a top priority. In alignment with this priority, all new hires must provide proof of COVID-19 vaccination or obtain an approved medical or religious exemption as a condition of employment. For areas that fall under the federal CMS mandate, start of employment cannot occur until two weeks after receiving the full COVID-19 vaccination series or upon obtaining an approved exemption. Only vaccines approved by the World Health Organization can be accepted. 
The University of Kentucky is a great college to work for, according to a 2021 survey conducted by Modern Think. For the fourth consecutive year, the university has been recognized by the research and consulting leader in the work environment.
The University of Kentucky is proud to offer a generous employee benefits package. We provide insurance, retirement savings, tools for your financial security and many benefits for your well-being.
UK offers professionals a wide array of fulfilling opportunities for staff and faculty. We offer a supportive work environment and the shared goal of supporting the greater good of our students, patients and colleagues. Join us, and you'll be part of something truly special. Our University is recognized worldwide for excellence in teaching, research and service and as a catalyst for intellectual, social, cultural and economic development.